When I am asked for resources for women experiencing miscarriage, my go-to link of choice is Stillbirthday, specifically their information on how to plan for a baby's birth at any gestation and in any setting: How to Plan – Still Birth Day. I also recommend the resources available from The Amethyst Network, specifically the section on When someone you know miscarries » The Amethyst Network (my own thoughts on Miscarriage is a Birth are shared there as well).
This week I appreciated reading a detailed article on how to hold a ceremony for an unborn child (though I would prefer not using the term "unborn," since the babies are still born!)
Shortly thereafter they induced her. Three hours later she changed her mind. She wanted a full naming ceremony. Could I come visit her right away? She held my hand tightly and said she was so glad I had dared to visit. Would I be there as soon as her baby was born? Before I left her husband shook my hand so hard I thought it would break.

At 2 a.m. my pager went off. It was a beautiful ceremony. They claimed this baby as their own, honoring her short life and what she had given them. They named her and prepared to let her go. The moment was tender, raw and love-filled.

via How to Hold a Ceremony for an Unborn Child | One Chosen Family.
Additionally, from the website Spirit Babies, there are some tips on organizing your own Spirit Babies Ceremony.
This article explains how friends helped "see" this mother in her miscarriage experience:
I reached out to other women who had miscarried and asked them to share their experiences. What emerged was not only a beautiful testimony of the power of friendship, but insight on how to be a better friend myself.

via When We Remember: A Story of Miscarriage | Kansas City Moms Blog.
When I lost my baby in 2009, my friends sent beads for a necklace for me (like those made for a mother blessing ceremony). It hangs on my wall above his birth certificate. One of my personal "ministries" or outreach efforts is to keep footprints-on-my-heart charms available for women in need. We added twin footprints charms to our etsy shop towards the end of last year as well. Each time we sell one of these charms, my own heart experiences a sinking feeling. I wish no one needed to buy these. It was especially sad to mail out the orders for them that came in around Christmas.
When we have leftover casting material from our larger figures, Mark quickly pours it into one of our pendant molds, making rough "scrap" birth goddesses or other pieces. We sell these at bargain bin prices in our etsy shop. We occasionally have "baby spiral" and "baby in my heart" scrap pieces as well and they are only $1 (they are rough and best used as a component of creating your own project).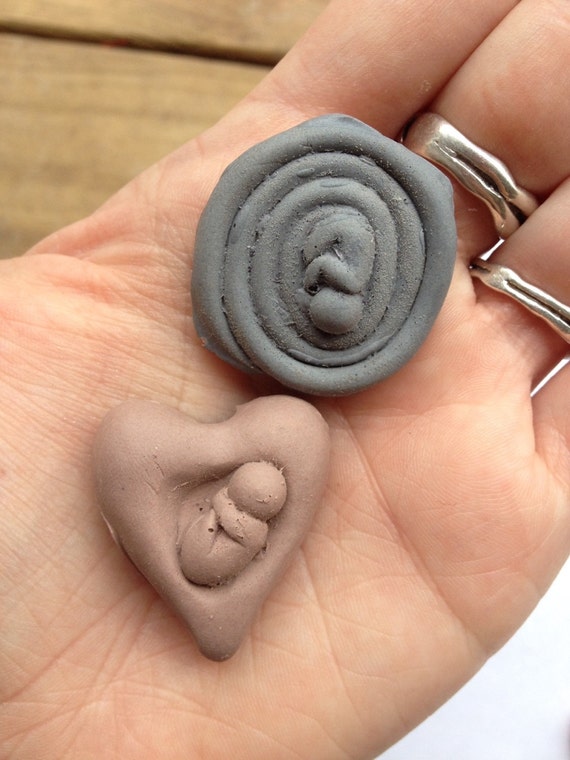 And, finally, I had a student this week who needed to help a grieving parent ask me about my booklet, Talking to Someone Whose Child is Dying. I wrote it quite a few years ago when I worked at the Ronald McDonald House and I'd almost forgotten that I made the booklet available as a free download here: Free e-Booklets | Talk Birth