I keep meaning to write another post about my experience with postpartum bellybinding using a traditional wrap. However, in case I don't get around to writing that post, I want to mention that I think it was incredibly beneficial in helping me avoid a diastasis recti. During pregnancy, I noticed a separation in my muscles near my belly button and after past births I've had a 1/2 inch gap or so. Just a few weeks ago during my yoga practice, I noticed that I have virtually no gap at all now, even though I now have more kids than ever! While I still have a bit more of a "mummy tummy" than I'd ideally like to have following Tanner's birth, the muscles underneath said tummy are strong and together. Anyway, today I enjoyed this helpful video and blog post about diastasis recti. It was very interesting and informative! Does Your Diastasis Recti have to Close For Optimal recovery? | Pregnancy Exercise.
And, this is a good article by a Facebook friend of mine about postpartum anxiety.
There is one thing I did know, that I now realize many others don't, and this is a big one: "Postpartum" is not shorthand for a mood disorder. Nobody "has" postpartum, in the history of the world, ever. Postpartum is what you are after you have a baby, not something you have. Every woman who gives birth is postpartum immediately afterwards. That's because postpartum, by definition, refers to the first few months after delivery. Postpartum = 'after baby' just like pregnant = 'expecting a baby'.

via Postpartum Depression and Anxiety: What I Wish I'd Known.
I've noticed this as well, particularly in my college classes, women will actually mention "not having postpartum" or worried about "she might have postpartum." I always correct them—all women who have had a baby are postpartum (some would say you're postpartum for the rest of your life!) and in itself the term alone does not mean anything about mood disorders.
Speaking of having the right words for experiences, I also shared this quote about birth and mystery:
Birth is a great mystery. Yet, we live in a rational, scientific world that doesn't allow for mystery. 'In this day and age, there must be a better way to have a baby,' implies that if you are informed enough, strong enough, you can control it. Any woman who has given birth, who can be honest, will tell you otherwise. There are no guarantees. It is an uncontrollable experience. Taking care of yourself and being informed and empowered are crucial, but so is surrender. Forget about trying to birth perfectly. Forget about trying to please anyone, least of all your doctor or midwife…

–Jennifer Louden (The Pregnant Woman's Comfort Book)
And, what we often need is women's care for one another:
Women around the world and throughout time have known how to take care of each other in birth. They've shown each other the best positions for comfort in labor, they've used nurturing touch and repeated soothing words, and they've literally held each other up when it's needed the most… –The Doula Guide to Birth

via Tuesday Tidbits: Parenting, Help, and Early Motherhood | Talk Birth.
(Side note: when I first used this quote, I was also celebrating 400,000 hits on Talk Birth. Now, I'm thisclose to 800,000!)
As I've shared before, one of my favorite quotes about postpartum comes from Naomi Wolf, A mother is not born when a baby is born; a mother is forged, made. The quote I share in this past post about an article about "Rebirth" touches that place in me—that motherhood results in a total life overhaul and a new, enriched identity: Rebirth: What We Don't Say | Talk Birth.
I shared this link about our cesarean birth goddess pendant in a different post, but I'm sharing it again anyway. Sorry if I am overusing it, but it really touched me and I feel like it belongs in this post too!
I wear both of these daily (I am currently wearing them.) The only time I take them off is to bathe and sleep. I am so madly in love with these; I feel so empowered when wearing them. I had a hard time with my new body after my cesarean and after a couple of years of feeling very close to depression, I finally found myself. I submerged myself into the body positive scene and fell in love with my body; (perfect) imperfections and all. I am now proud of my body and totally in love with it. I also treat it better now; Instead of just going with the flow, I make a point to give it what it needs. Matthew will be wearing these necklaces when I give birth because I can't have them on; though I want them there…

Lauren Douglas Creative: Handmade Love; Reviews of Things We've Recently Gotten.
And, speaking of birth art, I just love this cool mother blessing mandala I found on etsy recently: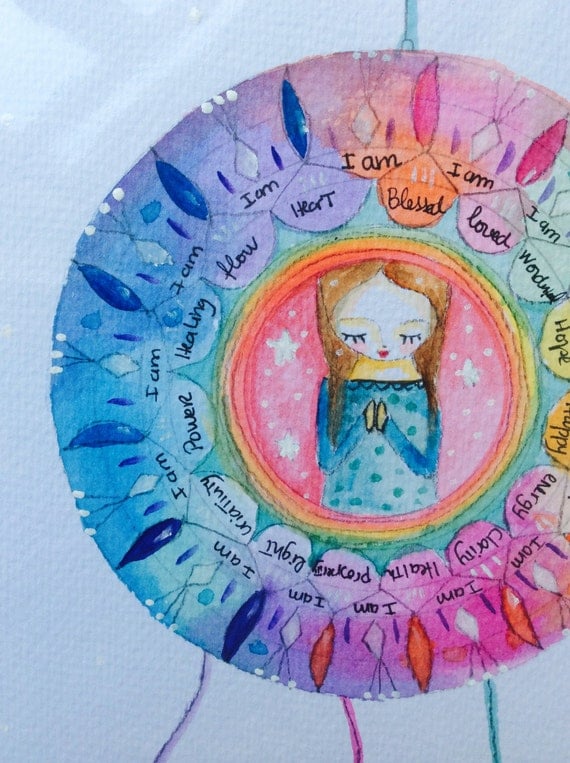 Custom Mother woman blessing mandala wall art by SusanaTavares.
And, this new meditative coloring book sounds extremely neat!

Blissful Birth Coloring Book – These Little Joys.
Switching topics slightly, I also enjoyed this article about why women criticize each other.

Approval from others has been our lifeline. For most of history, women couldn't protect themselves through legal, political, or financial means. We didn't have those options. We could ensure our survival only by adapting to what was desired and approved of by those with greater power. The legacy of that history is still alive in us and can make criticism or challenging the status quo feel like particularly high stakes.

via Why Women Criticize Each Other—Plus Ways to Play Bigger | Goop.
The author also points out that we don't have to wait for confidence before we play big/reach bigger–I liked that. I am hard on myself sometimes about not being more confident, but if I take some steps back, I see that the things that I do and the ways in which I am vulnerable enough to put myself out there, are brave and that feeling insecure and yet moving forward anyway is perfectly fine. One does not have to eradicate self-doubt or insecurity–feel it and do it anyway! I'm also using the Inner Mentor meditation included in the post for our Red Tent Circle this week.
Speaking of Red Tents, she evolved into a Red Tent goddess after being cast with russet pigment, but this new sculpture design was originally a Winterspirit sculpt and she does look right at home in this week's weather!