"Birth is not an event; it's a series of sophisticated biological processes… Really, we're talking about processes that should make us fall on our knees in awe."
–Suzanne Arms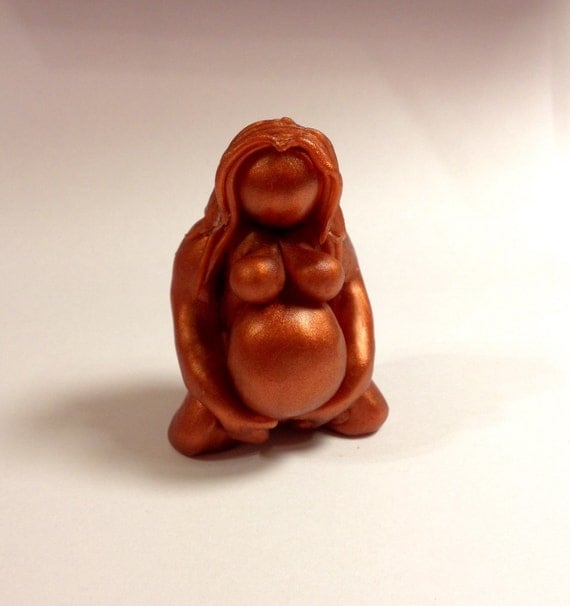 In our May newsletter from Brigid's Grove, we introduced our new "Squatter's Rights" sculpture of a mama catching her own baby. This sculpture has a lot of personal significance to me and I have found her image tremendously empowering for a long time. I have made a variety of different versions all expressing the same message: reach down and catch what's yours.
…Would the new child coming from me be slippery like soap? I rubbed my fat belly. I loved each pound I gained, each craving I had, and every trip to the bathroom. Okay, maybe not every trip to the bathroom. But, I loved this growing baby. Tucked away like a pearl in the sea just waiting to be discovered. I was in a constant state of marvel.

Would I be able to physically do this? No, I don't mean the labor, nor do I mean the birth. I knew I could do that. I got lost in thought as I planned in my head every moment that would come after my body did the work of labor. The moment would come once my body was ready and the crown of a child's head pushed itself from me, the moment the child would emerge. That's what I was planning for; I planned to catch my own baby…
It is hard to express how much I love knowing about how these figures "speak" to the women who receive them. I started making them to express something within me and to speak to myself or remind me of my own power. I absolutely love knowing that they carry these messages to other women as well, not just me! An early customer of the Squatter's Rights sculpture gave me permission to share her feedback on it:
I LOVE THIS!!! ❤  I JUST got my lovely statue, she's gorgeous, I am in awe of your work, and I caught myself choking up a bit at how I look at her and it pulls me back to that most empowering of moments, Me-birthing my little rainbow.. Completely uninhibited.. THANK YOU!…They will be in a sacred space, helping watch over me as I go through Midwifery school… ❤ Thank you, thank you!! ❤
What a tremendous honor to be a small part of another woman's journey in this way. It feels like a sacred trust.